Nov.29th
There's many characters on my list this winter besides the RoboCop characters I'm doing to close out my work on RoboDoc: The Creation of RoboCop. Some of these characters will take me til March, at least. They are:
George Michael and his ex from Last Christmas MV, Golden Six Shooter from Big Trouble in Little China, the main cast from Cobra Kai Series, arm wrestlers from Over The Top, characters from Stranger Things series and the characters from Take On Me MV.
After these characters are done, I'll be taking a little break from character portraits to resume statuemaking and start on a most ambitious project based on Bloodsport.
Work in progress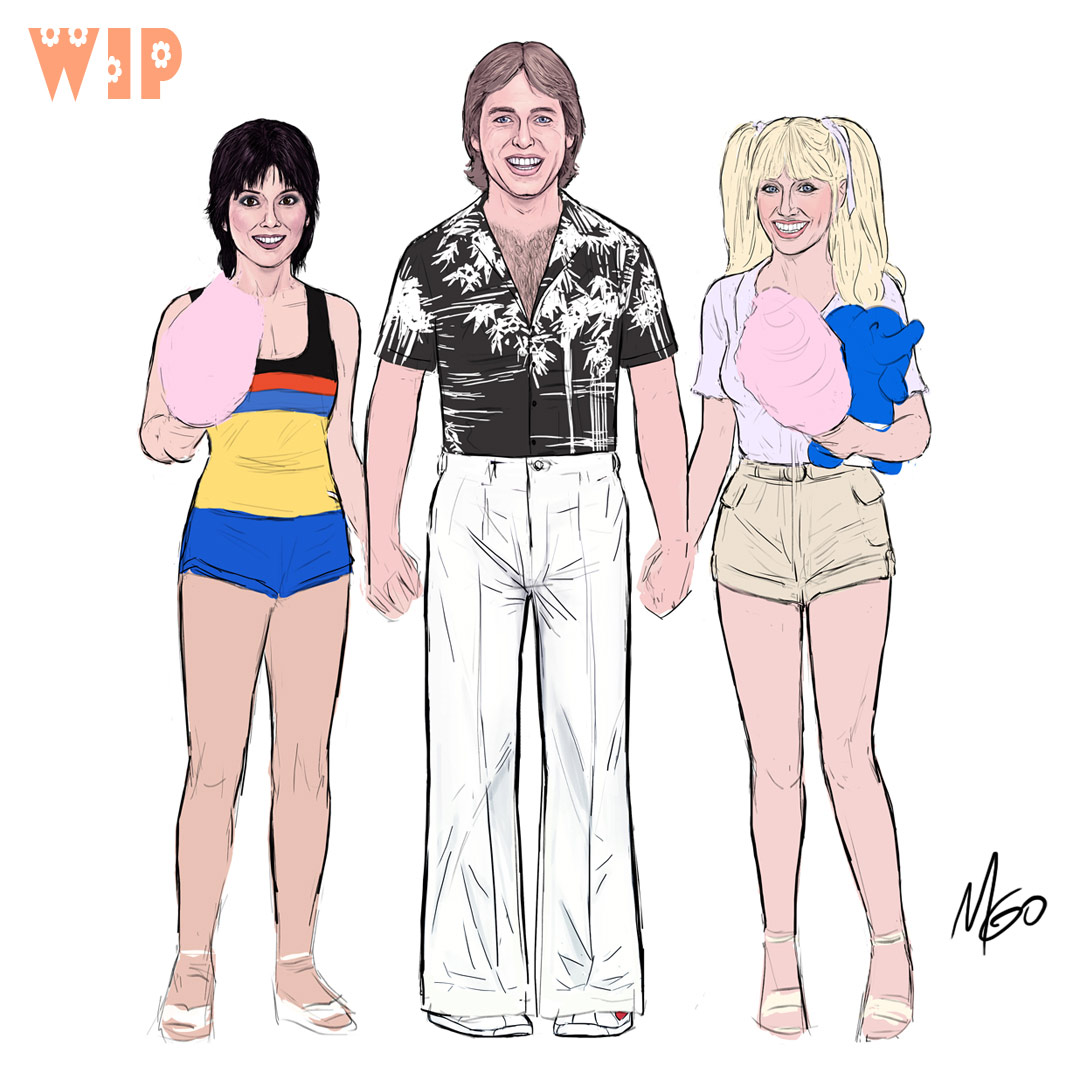 I've been asked many times about a follow up piece to my first Three's Company piece. So glad to finally have it on the drawing board. I always thought Season 4 Janet was the prettiest and holy moly Chrissy... enough said I had to cover her up here lol.
---
On a serious note, I've decided to close my Etsy shop to focus more on art and growth here. One thing right now is I'm lacking time to create and stay in a consistent creative zone... fulfilling orders especially during sales and holidays do take a major toll on me because I'm away from my drawing board for days at a time and stress levels are through the roof. But mainly, I want to have total control of my domain and not have to worry about Etsy's ever changing algorithms, sale and discount encouragements, and those dreaded fees. Four years on Etsy were invaluable and a rewarding experience I'd never trade.

Going forward, I can now see a doable timetable to develop new art that's been on my dusty to-do list. One particular creation in mind is truly unique to Preserved Dragons and having scoured the net, I have yet to find anything similar. So it's good times coming in the new year.
Other creations that I'm happy to reveal is my return to
statuemaking
. With handfuls of Bruce Lee statues at 75% complete, I'm determined to finish and let them go.
Lastly, the PD website is getting a tiny makeover with a new payment gateway that will make the shopping experience much, much better. This will take time indeed, but I'm glad time is what I have again.
---
Recently completed characters and three more to add which all are going to be featured in RoboDoc: The Creation of RoboCop.
To close out my work on the much anticipated documentary, there are two backdrops to create in January. Looking forward to it.